Compass Draw General Overview
What is a Compass Draw?
A compass draw is a tennis tournament draw that is divided up into 8 brackets, each bracket representing a point on a compass (i.e., North, South, North-East, etc.). When a player loses a match, he or she simply moves into a new bracket. This is shown in Figure 1 below.
All players start in the middle column of the large draw shown at the center of Figure 1.
In round 1, winning players move into the East bracket and losing players move into the West bracket.
In round 2, winning players in the East bracket stay in the East bracket, while losing players in the East bracket move into the North bracket. Similarly, winning players in the West bracket stay in the West bracket, while losing players in the West bracket move into the South bracket.
This process continues in rounds 3 and 4 where players can also be moved into the Northeast, Northwest, Southeast, or Southwest brackets.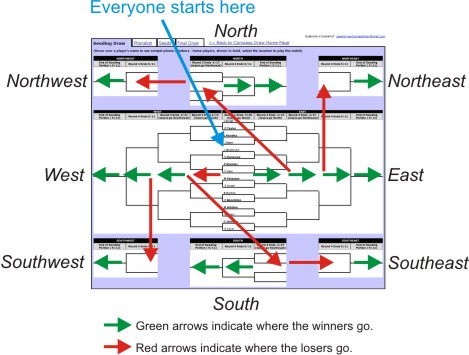 Figure 1. Sample compass draw
How the Compass Draw Tournament Works
Players log-in to the website and click on their division to see the drawsheet and find out who they are going to play. Opponents contact each other to find a mutually agreeable date and time to play.
In each round, there is a home player (shown in bold text on the drawsheet) and an away player. The home player gets to select the court location, but it must be within the local area for the tournament.
Both players bring a new can of balls to each match. One can is used in the match and the new, unopened can is awarded to the match winner in the "seeding draw rounds" and to the losing player in the "final draw" rounds.
All matches are generally best 2 out of 3 sets, although some divisions may use a 10-point tie-breaker instead of a third set
After a match is complete, either player can enter the match scores on the website using an easy score entry system.
Once scores are entered, the draw is updated automatically.
The first 4 rounds are the "seeding" rounds and use the compass draw format described above. After each round is over, all players are seeded (i.e., ranked) based on their match performance. NOTE: smaller divisions with only 8 teams or players will only have 3 "seeding" rounds.
At the end of the "seeding" rounds, the final seeds are determined and then a new draw (the final draw) is posted.
The final draw is a traditional elimination draw with a first-round-loss consolation bracket. Better seeded players have easier matches in the early rounds and also get home court advantage.
Prizes are awarded to the winner and runner-up of the main bracket and the consolation bracket. NOTE: smaller divisions with only 8 teams or players will only have prizes awarded to the winner of the main bracket and the consolation bracket.
Benefits to Players
The tournament provides a structured way for players to get competitive, pre-arranged matches in their geographic area.
The Junior Compass Draw is a great way for intermediate to advanced junior players to get real tournament experience without the expense and travel commitments of traditional weekend tournaments.
The intuitive website makes it easy for players to find out who their opponent is, contact them to setup the match, and then enter the scores.
It's fun and easy for players to see who else is playing and how everyone is doing.
When players lose a match, they aren't out of the tournament; they just move to another bracket.
Matches tend to get more competitive after each round, since players of similar skill levels tend to gravitate towards the same brackets. So, when you lose, your matches get easier and when you win they get harder.
Because the tournament is played over time (i.e., typically either one week or two weeks per round), players have enough flexibility to accommodate their schedules. An automated notification system automatically reminds players when they still have an un-played match and provides opponent contact information.
Winning players receive prizes and local tennis merchants often provide special discounts for Compass Draw participants.
Benefits to Junior Tennis Coaches and Teaching Pros
Junior Compass Draw tournaments are a perfect way for your junior players to practice the skills they are learning from you.
Tournaments take place over a several month period, giving your students opportunity to work with you on specific areas that need improvement.
The Compass Draw format keeps matches competitive, allowing better players to play tougher matches and less-skilled players to play easier matches. This keeps kids from getting discouraged and helps in retention.
Tennis coaches and teaching pros can log-in to the website using a guest ID and follow the progress of their students.
Benefits to Community Tennis Associations (CTAs)
The Compass Draw helps the CTA in its mission to promote the growth of tennis in their area.
The Compass Draw can be a complementary addition to existing programs, such as tennis ladders. Players often sign up for both.
The Compass Draw provides an opportunity for CTAs to cross-promote their other activities, such as sanctioned tournaments, tennis-carnivals, leagues, ladders, and other CTA-related activities.
No additional CTA personnel needed to run the Compass Draw. Everything from player registration to tournament administration and prize distribution is handled. All that is needed is assistance in marketing and promotion.